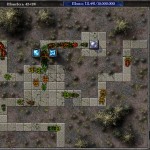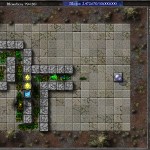 So, just in time, here are the screenshots I mentioned in the first post. Many things can and will change before release, so what you see there can look and work different in the final game.
Running through the comments, I decided to answer some of the more common questions here.
What happened to the Arcade Lounge?
The Arcade Lounge was a section in our old site where other developers' games were hosted. It took too much time to manage so it was laying there with no updates for more than a year. We decided to close it and concentrate on developing more games of our own, so we put a one month notice (at the end of May) on the opening page of the site.
You can find all the games that were there, on newgrounds.com.
GCL release date:
I'm sorry to say, but no need to check the site many times a day, the game will not be released for quite a while, there are tons of things to do before that.
I also can't tell any exact release dates. We want it to be out in Q3 2010 (e.g. before September 30, 2010), but we can't promise anything, so if you don't see the game up and running on the 1st of October, please wait just a bit more, we'll keep you updated here on the blog.
GCL difficulty:
Some players would like to see a harder game, others an easier one.
Good news for those who got stuck in GC0: GCL will leave the strict player progress mechanism where you had to beat your own highest scores to get any more XP. Now, if you run a stage again and again, you'll get the XP you earn each time. Of course it won't be worth beating the first stage on the easiest mode/settings repeatedly because you could get much more XP trying on those stages and difficulty settings that fit your skills.
Hardcore players can test their skills on the more difficult stages and modes, and a new class of amulets (the "challenge amulets") will be there to be earned – when you get a challenge amulet by meeting the task/condition (like causing 1M HP damage on a given stage in a given mode), you can go on and push your limits, the amulet will remember your best score, so you can show off on Youtube or try to beat your top score.
And last but not least, about the business model we plan to use in GCL:
1, all stages and most skills will be available for free.
2, a one time fee of a few USD (about $5) will unlock all game modes/settings and all skills.
3, extra skill points can be bought if you want a temporary (one stage) boost for your skills (something like 1000 extra skill points for $1). You'll be awarded with extra skill points when leveling up or gaining a new amulet, so you can try it without paying a cent. With these extra skill points, you can level your skills up further, but each time you play a stage, the extra skill point amount you used is subtracted from your total amount until you run out.
4, No more victory panel ads – if there will be any ad, it will appear when the game starts up.
If you are unfamiliar with payments in online games, check out Bloons TD 4 and other games on NinjaKiwi, or Robokill and Robokill 2 from Rocksolid Arcade.
If you want to know more about how and why flash game developers earn money or go out of business, and why placing ads in games and not asking for payments is a dead end, read the article Flash love letter (a must-read eye opener for every practicing or wannabe developer!) on Lost Garden.
:: Update July 11, 2010 ::
Yesterday I forgot to write about these:
Beta test:
For now we don't know if a sponsorship/"primary license" agreement will be made for this game, like it was the case with GC1/GC0 and Armor Games. If the game leaks before release, it can ruin our contract. (for example see the StarCraft 2 invitational beta, which was originally tied to Battle.net, is now available on torrent sites, and comes with a login bypass for offline playing. Of course StarCraft 2 and GemCraft are not in the same class, so I don't think top tier cracker teams would spend their time on making GCL available, but a flash game (a mere .swf file) is a piece of cake even for a novice cracker. So, instead of a pre-release beta, in the first weeks after the official release, many fixes and improvements will be released for the game.
Donations:
Thank you for showing us your support, but we can't receive donations that easily. Maybe I haven't dug deep enough in the maze of tax laws, but as far as I know, here in Hungary we can't just put out a Donation button and receive the payments on Paypal, we should send an invoice to anyone who sends us money. We would have to ask your name and address, and the processing fee of an invoice, and the amount Paypal and our bank subtracts, be more than the money you originally sent.
If you'd like to support us, you can do this by purchasing our future games, so you will get something in return. Handling the payments will be done by third parties, so we won't have to issue a ton of invoices and ask for your personal data.
Payments (continued):
I understand your point when you say you wouldn't pay for a simple online game. On a game that is so simplistic and short that I can play it to the end in an hour, and purchasing an "ultimate laser cannon" would just make it even shorter, I wouldn't spend aynthing either. If you enjoyed our past games, give our next one a try, and if you think it's reasonable to buy all the features, go on and enjoy the full experience, otherwise have fun with the basic (but still huge) version.