I'm sorry to tell that you'll have to wait two more weeks to have a sneak peek at the talisman system. There's a lot more to show of this topic than what I could show you at the moment, I have to work more on its details yet.
I'm positive that the talisman system will bring the fun of exploring the game and mastering it to a new level, I hope I can show it to you in 2 weeks!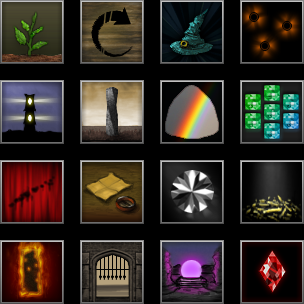 The new quests for GemCraft Labyrinth are live now (yes, that was one of the factors for the delay, I could bring you many more, but I don't want to fill this post with excuses), I have tested them all and they can be achieved without getting the premium edition, so even if you're on Kongregate* or somewhere else, you can give them a try.
*Why are these quests missing from the Kong version? They are part of Armor Games' new quests system, not internal to the game. They work the same way as the badges at Kong. the Kong version has badges, the AG version has quests now.
So… coming up next:
18th of March:
Talismans
1st of April:
Epic level insight